To get back to the Bloggy Giveaway Carnival, click
HERE
!
I don't know about you, but I am obsessed with buying cute shoes for my little man! I can't imagine if I had a little girl! I would have a new pair of shoes for almost every outfit!
I found some amazing shoes over at
Baby Bug Shoe Designs
and I fell in love! Ruth's site is full of handmade, soft soled baby shoes! You will find the perfect pair of shoes for your little one!
Not only are the absolutely adorable, they are also made from high quality faux suede that is super soft! The bottom of the shoes are made from a durable nonslip material. My favorite feature is that they are machine washable!!!
Ruth sent me this brown and blue pair to check out! Come to find out, this baby looks like it might be another boy so these will be perfect for him! They are so adorable and will go with so many little boy clothes.
I was amazed at how soft they feel. Any baby would be so lucky to wear these super comfortable shoes! The soles are even a non slip material so you're baby won't slip and slide while learning to walk.
These shoes come in 4 sizes for newborns up to 24 months. There are many different designs that you may want to order in every size! She loves to customize shoes for her customers! If you have had a design for a pair of shoes in mind, just email her to talk about it!
Here are some cute little girl shoes.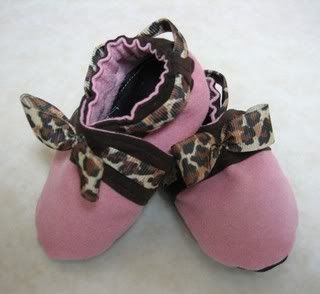 She also does different embroidery and monogramming. These are a pair of my favorite ones!
Buy It
You can purchase a pair of the regular shoes in any of the 4 sizes for $19.50! The embroidered and monogrammed shoes are only $24.50-$25.50!
WIN IT!!
Baby Bug Shoe Designs
is giving a pair $19.50 shoes to one of my readers! If you want one of the monogrammed pairs, you can pay the extra!
To enter, visit
Baby Bug Shoe Designs
and tell me which pair of shoes you are going to choose! Remember, the $19.50 pairs will be free, but if you want them to be monogrammed, you will just have to pay the few dollars extra!
This is required and must be done before the extra entries count!EXTRA ENTRIES!
You can do any of these things for an extra entry. Make sure to leave a separate comment for EACH thing you do.
1- For TWO extra entries, put my new button on your blog! If you have my old Two Of A Kind Button on your blog, take it down and replace it with the NEW one! THANKS!! Remember to leave TWO comments if you do this!
2- Follow my blog. Go over to my right sidebar and click on Follow This Blog! Current followers count too! Leave me a comment letting me know that you do!
3- Grab My "Bring In The New Year With Style" Button and put it on your blog!
4- You can now subscribe Via email...type your email into the box under my button and hit subscribe! Leave me a comment letting me know you did!
5- For TWO extra entries, Blog about this giveaway and link it back to my blog AND
Baby Bug Shoe Designs
!
6- Follow me on twitter AND tweet about this giveaway. Please leave me the link in your comment where you "tweeted" about the giveaway.
7- For FIVE extra entries, purchase anything from
Baby Bug Shoe Designs
before the end of this giveaway.
8- Add my blog to your technorati favorites! (click on the button in my sidebar) Leave a comment letting me know you did!!
Contest ends at 11:59pm EST on February 4th when I will draw a winner at random. PLEASE leave your email address if it is not visible on your profile, or make sure to check back here to see if you won. I will notify the winner on February 5th and they will have 36 hours to respond before I will choose a new winner! U.S. Only.
Don't forget to enter all my other giveaways listed on my sidebar!