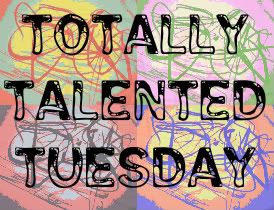 If you missed my post on Friday, I told you that I was going to be starting a new meme on Tuesdays!
Its really simple, just show me what talent you have in your house this week! It could be anything from a fantastic photograph that you took, to your little all star playing baseball! To learn more you can click
HERE
!
I hope you play along, post some talent on your blog, and link up with Mr.Linky! If you don't have a blog, I'd love it if you'd share what new talents have been discovered this week in the comments!
The rules are pretty simple! Post this button on your Totally Talented Tuesday posts! Be sure to link back to my blog somewhere in your post so that people know to come here and play!
I've decided that I'm not going to post pictures of "old" accomplishments! For each Totally Talented Tuesday I will be posting about talents that were discovered that week!
This is Evan this past week with his latest work of art! He LOVES to draw! Drawing is not a new talent, but this is his latest masterpiece! I went out and bought him crayons this weekend because he sometimes tries to sneak those markers into his mouth! :) He's sitting at the table in his
Minui HandySitt
drawing away!