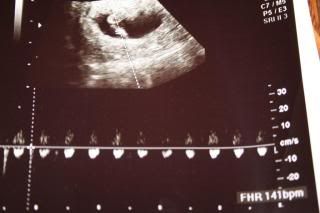 This is the little peanut that I'm carrying right now. Yesterday I got my first look at our newest addition! The best part is that we got to hear/see the heartbeat for the first time! There is no better sound in the world!
Everything went pretty well! The baby is measuring smaller, so I must have ovulated a little later than we thought! It pushed my due date back a little over a week or so! I'm due Aug 8th now. Evan's birthday is Aug 3rd! I do have a good size cyst on my right ovary that we have to keep an eye on! I had some with Evan too and by 18 weeks or so, they took care of themselves! I go in 5 weeks for another look at baby and my cyst!
For more A Thousand Words Thursday, check out
Cheaper Than Therapy
!