I was ecstatic when I heard about the
PopATot
! I'm sure we've all had times when we need to have our baby or toddler sit in something while we are away from home. Exersaucers and Jumperoos are WAY too big to cart around and after a few months, they are too big for their bouncers!
The
PopATot
will solve all those answers!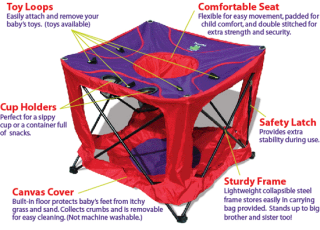 Going outside with a baby or toddler is hard because they want to sit up and usually crawl away! When Evan was about 7-8 months old I started bringing his jumperoo outside when I took the 2 year old that I keep outside to play. I would have to put a blanket on the ground and then the jumperoo on top of that. It was so heavy and big to try and take outside while also keeping a 2 year old and 7 month old happy! I wish I would have had a PopATot!
The bottom has a canvas cover that will protect their feet and also catch crumbs if you're inside! It easily comes off and is washable!!
It folds up REALLY small and is very light. You can put it up with one hand if you need to! We went to MANY of my brother's baseball games where I would put a blanket on the ground and have to bring toys to put on the blanket to keep Evan occupied! The PopATot folds up just like one of the folding chairs you would use at ballgames! It has two cup holders and several toy loops where you can attach your baby's favorite toys!
The PopATot is meant for children 6-18 months old! As soon as your baby can sit and support themselves, you can put them in the PopATot's comfy seat to play and be safe! I was able to test it out with a 7 month old , 11 month old, and my 16 month old! They all had a blast in it!
I can't wait to use the PopATot for this next baby as well! It will be PERFECT for play groups that I take Evan to where this baby will just not be safe on the floor! We have a condo at the beach and sand is often blown up on towels where the baby would be! The PopATot will keep baby off the ground and out of the sand's way! What better way to keep a baby occupied at a soccer, baseball, football, or basketball game? It will be so much easier not to have to drag a heavy exersaucer or jumperoo out when we're doing yard work or just playing in the pool!
Here is what the top of the PopATot looks like.
Here is Evan playing in his at my Mom's house!
Buy It
Through the end of the year, you can buy a
PopATot
for only $49.99 and shipping is free! A set of links will be included with the PopATot for free. After the first of the year, the PopATot will go back up to $59.99.
You can also purchase many little toys to hang from your PopATot on their website
HERE
!