The Paper Bag Christmas
by Kevin Alan Milne is a book all about the true meaning of Christmas. This book brought a tear to my eye and made me laugh out loud all at the same time!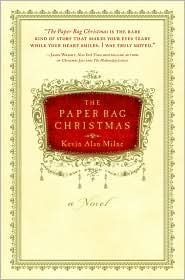 The Paper Bag Christmas follows two brothers, Aaron and Molar on an adventure. In the beginning of the book, they believe that the best presents are materialistic. On their heartwarming adventure with the mall Santa and his friends, they learn that there is so much more to Christmas than the toys.
This is the kind of book EVERYONE needs to read at Christmas. Sometimes we all get too caught up in the presents and cooking to remember what it really is all about! So many people need a reminder of the REAL important things about Christmas. This book is easy to read and there is never a dull moment!
My Thoughts on The Paper Bag Christmas
I couldn't wait to read this book after receiving it for review! I have even passed it on to my mom and my sister to read! It is not a very long book at all! In this 160 page hardback book, you will truly be moved and your heart will smile! I hope that you will go out and buy this book for yourself and then pass it on to as many people as possible!
Buy It!
You can buy The paper Bag Christmas at most retail bookstores for $14.99. Right now, it is on
Amazon
for $10.19.