I got the chance to design and receive my own box of 30
Fruit Roll-Ups
thanks to MyBlogSpark! It is so much fun and super easy to do!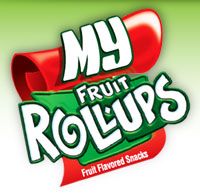 How It Works
1. Design your Fruit Roll-Up in the
design center
. You can use some of their designs or use your own pictures! You can personalize them so many different ways!
2. Save your design.
3. Submit your order.
4. Receive your shipping confirmation.
Our Thoughts on My Fruit Roll-Ups
Andrew and I had a blast designing our Fruit Roll-Ups! We kept changing our design! We finally decided to go with a Valentines design and use a picture of our family! It only took seconds to design it!
It's kind of hard to see with the flash and all, but this is our Fruit Roll-Up! I'm going to send them out to friends and family! If Evan was old enough to be in school we would have personalized them with his name and attached them to little Valentines for classmates!
As we were designing ours, I thought of all the cute and different things you could do! Instead of giving out bubble gum cigars when you have a baby, you could personalize these with your baby's name and It's A Girl or It's A Boy! These would be fun to send out with Christmas cards as well! Kids LOVE to have things personalized and these would be perfect for favors at birthday parties, or even baby showers!
With My Fruit Roll-Ups, you can let your imagination go wild!
Buy It
You can buy a box of 30
My Fruit Roll-Ups
in your design for $29.99.
WIN IT
I have a code for a free box of 30 My Fruit Roll-Ups to give to one of my readers!
To enter, visit
My Fruit Roll-Ups
and tell me how you would design yours!
EXTRA ENTRIES!
You can do any of these things for an extra entry. You can get up to ELEVEN EXTRA entries!! Make sure to leave a separate comment for EACH thing you do.
1- Follow my blog. Go over to my right sidebar and click on Follow This Blog! Current followers count too! Leave me a comment letting me know that you do!
2- For FIVE extra entries, write up a simple post on your blog about my "Bring In The New Year With Style" giveaways that start January 1st AND add my New Year button to your sidebar! For More information, click
HERE
.
3- You can now subscribe Via email...type your email into the box under my button and hit subscribe! Leave me comments letting me know you did!
4- Blog about this giveaway and link it back to my blog AND
My Fruit Roll-Ups
.
5- Add my blog to your technorati favorites! (click on the button in my sidebar) Leave a comment letting me know you did!!
6- Twitter about My "
Bring In The New Year With Style
" party!
7- Grab my regular Two Of A Kind, Working On A Full House button and put it on your sidebar!
Contest ends at 11:59pm EST on January 15th when I will draw a winner at random. PLEASE leave your email address if it is not visible on your profile, or make sure to check back here to see if you won. I will notify the winners on January 16th and they will have 36 hours to respond before I will choose a new winner! U.S. Only