I don't know about you, but in the backseat of my car there is a graveyard of old goldfish, puffs, raisins, and cheerios! I give Evan snacks in various containers to keep him happy in the car and half of them(or more) just end up on the floor or seat!
I received something that will ensure all of those snacks make it into Evan's MOUTH and not MY floorboard!
The Munchie Mug
is a spill-resistant cup that your child can get their snacks out of!
Here is Evan with his New
Munchie Mug
(he was so sleepy)-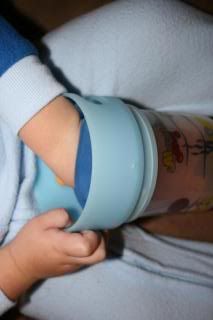 Benefits of the
Munchie Mug
-
-Made in the USA
-Made 100% with FDA food-grade approved materials and #5 BPA-free plypropylene
-100% recyclable
-Top rack dishwasher safe
-Fabric enclosure for little hands
-Secure screw-on top
-Additional stay fresh lid
-Eliminates waste from disposable plastic snack bags
Since the Munchie Mug can be washed in the dishwasher, the fabric opening is still damp when it comes out. To dry, all you have to do is push both sides at the same time with a dry cloth.
This is a picture from the top to see the fabric enclosure and the additional lid(at the side) to keep snacks fresh when the Munchie Mug isn't being used.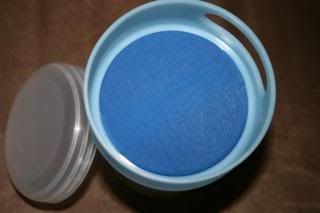 My Thoughts On The Munchie Mug
I admit that I was a little skeptical of the fabric enclosure. I had visions of soggy goldfish! As soon as I got it, I put it in the dishwasher so that it would be ready for us to use! When it was done in the dishwasher, I dried both sides like I was supposed to with a dry cloth. Surprisingly, that is all it took to make the fabric enclosure DRY! I loaded the cup full of puffs and raisins, and out the door we went! I gave Evan the Munchie Mug in his car seat and let him go at it. Not ONE puff or raisin was found on the floor! At church on Sunday, I showed it to a few of the other moms and they were all as impressed as I was! FINALLY, a way to snack without the mess! And not only do you get to snack without the mess, but it also comes with another lid that you can put on it to keep the snacks fresh and ready!
BUY IT
You can purchase the Munchie Mug on their Website for $12.95 each!
WIN IT
Want to reduce the mess in your backseat?
Munchie Mug
is offering one of my readers a mug of their own!
To Enter, tell me your favorite thing about the
Munchie Mug
and who it would be for!
EXTRA ENTRIES!
You can do any of these things for an extra entry. You can get up to TEN EXTRA entries!! Make sure to leave a separate comment for EACH thing you do.
1- For TWO extra entries, Grab my "BRING IN THE NEW YEAR WITH STYLE" button(on my left sidebar) and add it to your sidebar!
2- For TWO extra entries, You can now subscribe Via email...type your email into the box under my button and hit subscribe! Leave me comments letting me know you did!
3- Add my blog to your technorati favorites! (click on the button below) Leave a comment letting me know you did!!
4- Buy a
Munchie Mug
by the end of this Giveaway.
5- For TWO extra entries, Blog about this giveaway and link it back to my blog AND the
Munchie Mug
!
7- Follow me on Twitter
HERE
8- Follow my blog. Go over to my right sidebar and click on Follow This Blog! Current followers count too! Leave me a comment letting me know that you do!
Contest ends at 11:59pm EST on Dec18th when I will draw a winner at random. PLEASE leave your email address if it is not visible on your profile, or make sure to check back here to see if you won. I will notify the winners on Dec 19th and they will have 36 hours to respond before I will choose a new winner! U.S. Only
***DON'T FORGET TO CHECK OUT MY OTHER GIVEAWAYS***