Cole Family Christmas
is a book that will be sure to make your heart smile! This family is able to look past materialistic things and find happiness with each other.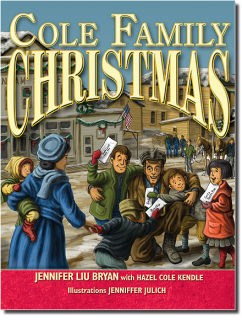 The Cole family includes 11 members who all pitch in to help their parents. They live in a coal mining town in the Appalachian Mountains. Each member of the family bursts with love and affection for each other.
Cole Family Christmas
tells about one particularly cold and snowy Christmas where they learn what really matters! Amazingly, this story was written by a granddaughter-in-law(Jennifer Liu Bryan) of the youngest Cole child(Hazel Cole Kendle). Together, they convey this magical true story that is sure to warm hearts. Years of story telling made it so that this story was remembered.
My Thoughts On Cole Family Christmas
This book is absolutely amazing. The illustrations are fantastic and the book itself keeps you engrossed. I want everyone I know to read this and understand the importance of family. Sometimes during the holidays other things get in the way, but families should always be close! There are so many lessons to be learned by this 75 page, illustrated book!
Buy It
You can buy Cole Family Christmas on their website
HERE
for $17.95 each, two for $15.00 each, or three for $12.95 each plus S&H.
Cole Family Christmas can also be purchased
HERE
on Amazon.com right now for $12.21!