Thou Shalt Not Whine by January Jones was such a fun read! Her book gives a humorous approach to What we whine about, why we do it, AND how to STOP!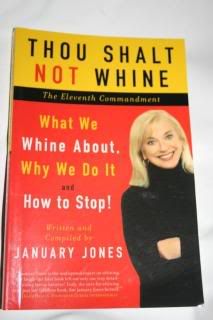 If you're not a fan of whining(who is?) you will get a kick out of this book! This book includes the top 10 reasons that 11 different types of people whine.
Thou Shalt Not Whine is broken down into 11 Chapters:
Children
Teenagers
Parents
Couples
Singles
Baby Boomers
Seniors
Women
Men
Best Friends
Grandparent
Not only do each of these chapters have the top 10 reasons that these people whine(with 2 ways they whine about each thing), but it also includes ways that YOU can make it stop!
For Example:
In the Children's chapter, sharing is a reason to whine. This page states two ways that they will whine and WHY they whine. Whine A-
Do I have to?
And Whine B-
I Don't Want To!
After explaining why they probably whine, she gives you the
Cure
! The two for whining are "The sharing is fun" cure and if that doesn't work, you can fall back on the "Because I said so!" cure(which happens to be one of her favorites)!
Each page had SOMETHING that had me giggling. If it wasn't her humours description of each reason people whine, it was the amazing quotes that she has at the top of each page. One of my favorite quotes was in the Top Ten Couples Whines.
"I Love being married. It's so great to find that one special person you want to annoy for the rest of your life!" -Rita Rudner
If you haven't read this book yet and want some great ways to stop all the whining in your life, be sure to go get Thou Shalt Not Whine!
Want it?
Right now you can get Thou Shalt Not Whine at
Amazon.com
for $11.66