I received the
Scootababy
Carrier in the Piccadilly Circus pattern last week and wanted to get my review up in time for International Baby Wearing Week!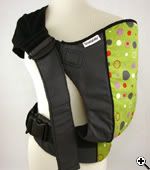 WHAT IS IT?
Scootababy
is a baby carrier manufactured in the U.S., produced from top quality U.S. materials! Scootababy is used to carry babies HANDS FREE from 5 months up to 40 pounds comfortably on the hip.
I have to admit that I was a little skeptical when the Scootababy arrived. I'm not one to "wear" Evan, especially now that he's 24 pounds. I just didn't think that it would be comfortable! It also came in a WONDERFUL nylon drawstring carrying case! When I opened it up I was excited by how cute it was. Lets face it, I am not the type to carry my baby in an ugly carrier! I put it on and adjusted the straps while Evan was begging me to pick him up. I was easily able to put him in the carrier and we were on our way!
When we tried it, I first loved how easy it was to put it on and strap him in. Complicated, time consuming carriers just aren't my thing!
To strap baby in:
-Place carrier on desired hip and buckle snugly into place.
-tighten straps to desired length.(you can still easily maneuver the front straps once baby is in the carrier)
-pick baby up and put their bottom directly over the carrier seat.
-with the other hand, Pull the strap up and over yours and baby's head.
-position strap comfortably on your shoulder.
-adjust strap length to desired length for comfort.
To see picture instructions...click
HERE
.
It had enough padding along my waist to keep me comfortable. There was padding under where Evan's bottom is and there is more padding that you can slide around to your other hip. The shoulder strap wasn't overly padded like some carriers are and was super comfortable.
More importantly than anything, Evan LOVED it. When I took him out, he actually cried and wanted me to pick him up and put it back in it! There is no point in having a carrier if your child doesn't want to be in it. The
Scootababy
is comfortable for both mom and baby. Even at 24 pounds, I was carting Evan around like he was a light weight and this carrier goes all the way up to FORTY pounds! I have no need to even think about other carriers now. THIS is my new carrier of choice. Of course, I'll still stick with my sling when the next baby comes until it's 5 months old! THEN we'll travel in style with the scootababy!
This is my brother giving the scootababy his seal of approval!
These are all my thoughts on
Scootababy
.
Pros:
-I love that the scootababy is attractive and comes in SEVEN great colors!
-It is super comfortable for mom and baby.
-It's easy and FAST to put strap him in.
-It holds up to 40 pounds so you don't have to worry about your baby/toddler outgrowing it in a few months!
-Its not too "feminine"! LOL..my brother was even eager to try it out!(TWO of the patterns are really masculine)
-Comes with a GREAT nylon drawstring bag to easily tote Scootababy anywhere you go!
-It's made from top quality U.S. materials and manufactured IN the U.S.
Cons:
-You can only carry baby on your hip. You cant use it as a front or back carrier. This doesn't bother me because that is how I prefer to carry him, but some moms may disagree.
-Scootababy cannot be used until your baby is 5 months old or can hold it's head up unassisted. Again, I personally have no problem with this because most moms use a sling type carrier when their baby is tiny anyway.
-It retails for $119 which may be out of budget for some moms.
WANT IT?
You can buy the
Scootababy
in several retail stores. The scootababy retails for $119 and comes in seven great patterns.