The Little Environmentalists
sent me Nature Discovery In My Backyard. This book is the first of a series that are designed for children ages 0-5.
The Little Environmentalists
is dedicated to providing environmental awareness, apreciation, knowledge, and stewardship. They proudly print their books using 100% post-consumer waste, clorine free, and non-toxic toner.
I am all about teaching Evan as much as I possibly can BEFORE sending him off to school. I decided to be a SAHM so that I could give him every advantage possible. Nature Discovery In My Backyard helps me accomplish this. At 15 months old, I already have a bookworm. We sat down to read this book and Evan was engrossed.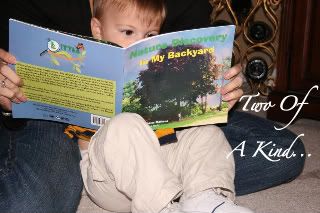 The pictures in the book are great. They actually LOOK like the flowers, trees, and animals that they're supposed to! This book takes you on a journey with a little girl that is discovering everything that is around in your yard if you just open your eyes. This book teaches children everything from different types of butterflies to the stages of a frog's life!
As a mom, my favorite part of this book is the back. There are MANY different tips for discovery nature in your own backyard! It even tells you the different things you can do in nature during the winter months. The most important thing while on a nature discovery is to make sure you use your senses! Listen, look, touch, and smell everything around you!
There are even tips for educators! It provides them with another resource to meet standards for scientific thinking in early learning.
Needless to say, I was extremely impressed by this book. I personally believe that the best way to learn is a hands on experience. This book teaches that you need to get out there and use all your senses to learn everything that is going on around you!
WANT IT?
Books in this series:
- Nature Discovery In My Backyard($6.95-available on
The Little Environmentalist
and bookstores now)
- I'm Turning Green($7.95-will be released Nov 29th)
- The Circle of Life(coming soon)
- My Big Backyard Habitat(coming Spring 2009)