I Love My Planet Toys
is a fairly new company dedicated to keeping children informed about the environment. Their toys are produced from high quality products that are earth friendly.
Their
Planet Pixies
are the first toys that they have launched. Many great websites such as Amazon.com, Target.com, and ToysRUs.com have taken notice of these amazing Eco-conscious dolls.
Their next line,
Jasper's Jungle
will launch in the spring of 2009. Jasper's Jungle includes an assortment of adorable animals to provide safe, imaginative fun.
Meet The Planet Pixies:
There are three pixies that come from different endangered places around the world. Planet Pixies are made from organic cotton fabric and natural materials. These Pixies can be given to children as young as 3 years old. Each Planet Pixie comes with a story about where it is from and different tips on how to help save their environment.
Anyu the Ice Pixie-
Anyu is from the North Pole which is home to many creatures such as polar bears, seals, reindeers, and Pixies! The ice there is known as the "polar ice cap", and is important to the planet. When pollution from all over the world melts causes temperatures to rise and the ice to melt, it is known as "global warming". This can cause natural disasters, animals to get hurt, and the pixies will loose their home! She needs a good friend to take care of her and help keep pollution down to care for the North Pole.
Maia the Tree Pixie-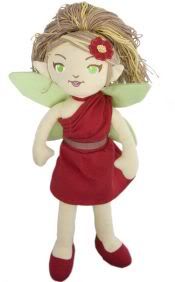 Maia is from the largest rain forest in the world, the Amazon. The amazon is home to more animals than any other region on the planet. Many trees are being cut down everyday which is causing Maia and all of her animal friends to loose their home. She needs a friend to take care of her and help watch out for the trees in her environment!
Kayla the Marsh Pixie-
Kayla is from the marshes in the Florida Everglades. The Everglades is home to beautiful animals such as alligators, panthers, manatees, bobcats, and pixies! The Everglades are now half the size that they used to be because of pollution and over building. Kayla needs a friend to take care of her and help stop water from being polluted and killing the Everglades.
Children can learn more about each Planet Pixie and what they can do to help save the environment on their
special website
. Their
special website
is adorable and provides so much information!
My thoughts:
I received Anyu the Ice Pixie. She came in packaging that is Organic and is 100% recyclable! In her hand she carried her story and how her new friend could help take care of her environment.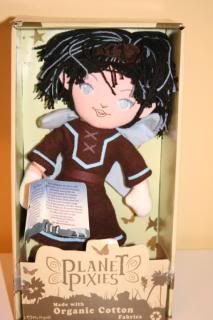 I LOVE these! I think they are a fantastic idea that will help bring awareness to all the little things we do that can harm the planet in a HUGE way. With so many people "going green", why not get our children involved and teach them how to take care of the planet in ways that they can understand!
I absolutely adore the idea that each child can go online and learn more ways that they can help "save" their new Planet Pixie friend and their environment! Not only are they educational, but they can also be used as your child's new friend! They are super cute and very soft! Their outfits are great because they match the environment that they came from and they will provide children with hours of imaginative play.
Want it?
Planet pixies can be purchased on their website,
I Love My Planet Toys
. You can also check their website for a retail store that near you that carries them.
Each Pixie is $24.95.