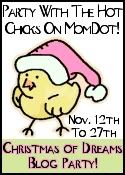 MomDot
is hosting the Christmas Of Dreams Blog Party and I'm excited to participate! The party is meant to get all of us to learn more about each other and visit other blogs and to maybe win some neat giveaways!. I can't wait to learn more about so many amazing bloggers!
Day One is brought to us by
La Belle Toile
and
This And That
.
If this is your first time visiting my blog, WELCOME! I hope to get to know you soon! Take a look around and don't forget to enter my giveaways!
Day One Question: Introduce us to your family and share Holiday pics of years past
My family consists of Andrew(Hubby), Dee(ME), and Evan(our 15 month old son).
Last year was Evan's first Christmas and our 2nd Christmas being married. I'm going to share pictures from last year since it was our "first Christmas with Evan"! Evan was 4 months old when Christmas came around.
This was one of the pictures on our Christmas Card...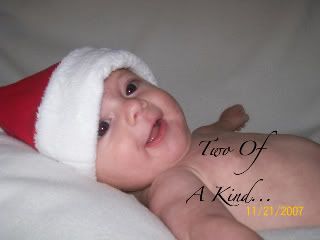 Here he is eating his first Candy Cane...
His first Santa experience...
We go to the zoo every year where there is The Lights Before Christmas...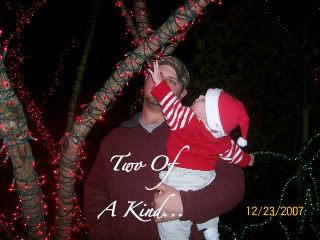 This is Hubby, Evan, my sister(Grace), me, and my brother(Derrick)...
And here is our little gift from God...