I know I'm slacking and should have had these up Friday night, Saturday at the latest!!! I have a busy weekend but am up before everyone else today!
Evan did GREAT! He was all about the candy though! LOL! EVERY TIME someone put candy in his bucket he'd take it out and try and eat it right then and there! He was obsessed with ALL of his candy and very possessive! HAHA...a man after my own heart!
We went to my grandmothers house and a few aunts and uncles...THEN we hit a neighborhood and he thought he was big stuff walking around from house to house! We had a LOT of fun with NO melt downs! LOL!!
So with out anymore delay..here are our Halloween pictures!
My little sister dressed up as a football player and we ALL took Evan trick or treating!
Sitting on Daddy's lap playing...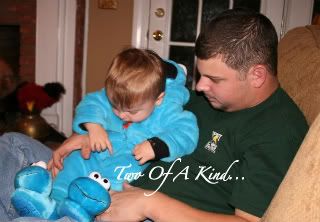 Out and about...Daddy on one side and Aunt on the other...
HAHA..check out the candy all over his face...Mommy and Evan...
Cookie decided he wanted to "drive" so my mom let him sit in her lap before we left!
And last but not least...Wallowing in his loot...