I want to thank
Amy
for my new award! Go check out her blog so you can see how amazing she is! I'm so excited to get another one! Want to see how pretty my uber amazing blog award is?
Here it is...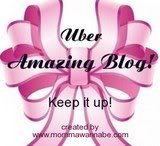 I'm going to pass this on to
Mama of Romance
AND
Robin
! If you have time, go check out their blogs and tell them I said HEY!!!!