We had Evan's haircut for the second time yesterday. Well, TECHNICALLY it was the third time. Last week we just trimmed the back straight across because it was getting too long. Its SO short now and longer in some places than others. I'm a little disappointed but I know it will grow back. He did SO good during his first haircut but was VERY hesitant this time. At first he cried but he sat in my lap and my sister started playing peek-a-boo with him and he got over it.
I thought I'd share pictures from his first haircut since I was reminiscing.
See, he sat in the chair like such a big boy! AND yes, I know, its really long and he looks like a girl. I was waiting until after he turned one even though he had a mullet going on!
And then it was over and my BABY looked more like a TODDLER!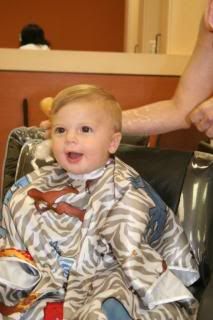 This is Evan yesterday after his second haircut. See how it sort of goes in a V in the front? UGH! Oh well...its hair and it WILL grow back! I usually sweep it over to the side anyway! HAHA..and he wouldn't stay still so I could get a picture...he just kept walking around.