OK..I'm doing it! I'm taking my first steps into the blogging world...however shaky they may be! I've been reading othe peoples blogs for a while now and have decided to share my randomness with everyone too! It may be a little slow and unsteady to start with...but thats ok! I'm not to savvy when it comes to all thing technilogical but I'm going to give it my best shot!
For my first post you should get to know me right? Well..this is me. My husband and I are both 23 years old and we went to high school together but i would have never dated him(ha..little did i know a few years later we'd be married with a baby)! We did, however start dating the december after we graduated high school after going out with a bunch of our friends. A year later we were engaged(Dec 9, 2004)....and 11 months after that we were married! We got married at the state fair on Oct 16, 2005! YEAH..we won a contest and had the most fun! SEE...fun..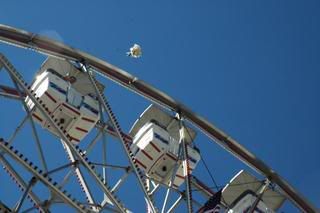 A few months later we built our house! We moved in Sept 20, 2006 with our chocolate lab, Rocky! We found out we were have a baby November 29, 2006! We were sooo excited! Evan was born Aug 3, 2007....
Now, my baby is 14 months old(TODAY) and we're still living in that house we built 2 years ago and working on making our family bigger!
Here is a picture of Evan from a few months ago