Who got married at the state fair? WE DID...3 years ago! I have mentioned it in a few posts and have received multiple requests to tell all. This post is all about our wedding.
THREE years ago, I was planning this big wedding AND going to nursing school. I was stressed beyond belief and read about this contest. I laughed it off but showed it to my mom and Andrew. It was to be the first people to get married at our fair. It was called Marriage On The Midway! You won EVERYTHING for your wedding from the dress to the flowers! We decided to enter it..just to do it...it's not like we'd ACTUALLY win! HAHA! So I wrote this short essay and sent it in with a picture of us! A few days later, I was sent an email telling me that we made it in the top 10 and it was going to be on a website and everyone would vote.
Again, we just kind of laughed it off. We were up against 9 other people, what are the chances WE would win it? We voted, and left it at that. But we started hearing about the contest on the radio and such. LOTS of people were voting in this contest. A few days later, I get a million calls while I was at the hospital doing my rounds. As I left the hospital that day, I listened to my messages and WE HAD WON!
I had visions of getting married underneath a roller coaster by a Carney. Needless to say, I was terrified because we had just entered this as some joke! I talked to my family and we decided to call them and decline.
When I called them back, I told them that I wasn't interested. I didn't want my wedding to be a joke, I wanted a nice ceremony. The lady that I talked to was SUPER nice and told me that we had won by a landslide and it WAS NOT a joke to them. She assured me it would be nice.
It was going to be in a tent on a Sunday morning BEFORE the fair started. We could choose our minister and anything else that we wanted! Then she told me everything that was included in this. We could invite 116 people(they'd work with us if we needed more) and they would all get into the fair. After the wedding, they would all have wristbands and could ride all the rides and eat as much fair food as they wanted! EVERYTHING would be taken care of...the flowers, photographer, dress, tuxes, cake, decorations, a honeymoon, a gift basket with a whole bunch of randomness, satellite TV AND Radio for a year........EVERYTHING! I had already bought my wedding dress though, so I used my own and now I have two. The catch? I had TWO WEEKS before we got married!
We talked it over, and decided to do it. Everyone was a little apprehensive at first because we weren't getting married in our church where I grew up. But, God IS everywhere and would be with us at the fair.
That night we watched our wedding..ON THE NEWS! The next morning, I got a call from my mom. We were on the FRONT PAGE of our state's newspaper! I guess being the first people to get married at our state fair is a big deal. My dad went to go get a paper and no one believed that was his daughter on the front page of the paper! Even now, if I run into people I went to high school with and haven't seen in FOREVER, they always say "I saw you on the news or paper".
HERE are some pictures from our wedding...
Here I am right before the wedding
During the wedding. It was so short notice that we weren't able to get dresses and have them all fitted before the wedding. So that is my brother and sister on my side(YES, my brother is my bridesmaid), and Andrew's dad was on his side!
The minister is actually a friend of ours and was the youth minister at the church we went to!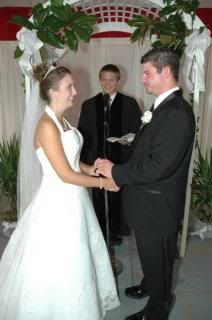 Our cake
We threw the garter and bouquet from the Ferris wheel!
THIS is what it looked like all day, I felt like a celebrity! LOL..we had camera crews all over us!
My grandad passed away shortly after we were engaged. He was a HUGE part of my life and I wanted a piece of him in our wedding pictures. After our wedding and everything was over we went back to my parents house to take pictures with some of my granddad's tractors!