This is my second giveaway and it is a great one! These are my first giveaways and I'm so excited! I saved all of them for the
bloggy giveaway carnival
! Make sure to check them all out!
As a mom, you live a hectic life. That's just all there is to it. Your lazing around the house days are OVER! You have to do whatever needs to be done while trying to entertain your child/children. I have been known to put my little man in his carrier, strap him to me and wash dishes, brush my teeth/hair, and even jump on the treadmill! Before he could get around, he was happiest hanging all over mommy. Even now he doesn't like me doing things that look like fun with out him! One of my BIGGEST obstacles is cooking! LOL! My little piggy wants to EAT...not WATCH me cook!
When I first saw the shirts over at
LTDchix
, I cracked up! I STILL giggle when I see them because THAT is my life and I only have ONE child! By the way LTD, means LIVING THE DREAM! HAHAHA! That's right...I'm living the dream...baby hanging all over me at ALL TIMES! They have shirts that match EVERY mom! And if you're a mom that CAN NOT relate to AT LEAST one of these shirts at some point or another and ALWAYS have it all together, I don't want to hear from you because you make me sick!!! LOL..but I'm pretty sure most of us "REAL" moms can relate to these!
LTDchix
sent me a pink, cooking LTD t-shirt and I wear it proudly! Its printed on a great t-shirt that is super easy to wash, dry, AND iron (if you have time for that sort of thing)! I had to iron it a little for my picture and was worried to run the iron over the printing, but I had nothing to worry about because it didn't come off or smear at all! That's right, this is a picture of me living the dream in my cute shirt! I have received so many laughs while wearing my new shirt! I believe that being a mom is about humor, if you cant laugh its going to be hard! All moms need one of these shirts to show the world that they ARE living the dream, however frazzled they may be!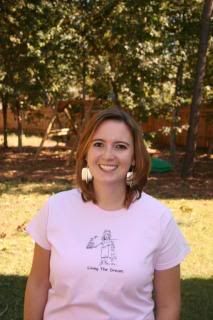 WIN IT!
LTDchix
has offered to giveaway a shortsleeve laundry shirt! All you have to do is go to
LTDchix
, take a look around, then come back here and post your favorite THREE shirts! I want to know your top 3 just in case they don't have the laundry shirt available in the size and color you want! The contest is only open to US residents.
Contest ends at 11:59pm EST on Nov 2 when I will draw a winner at random. PLEASE leave you email address if it is not visible on your profile or make sure to check back here to see if you won. I will notify the winner on Nov 3rd and they will have 24 hours to respond before I will choose new winners!
Want EXTRA entries? You can do any of these things for an extra entry. Make sure to leave a separate comment for EACH thing you do.
1- Follow my blog(look on the right side of the screen and click on "FOLLOW MY BLOG").
2- If you have a blog, grab my button and put it on your sidebar.
3- Purchase a shirt from
LTDchix
4- Go vote for LTDchix
HERE
and come back to let me know you did it! If you love these shirts you can do it once EVERY day this week!
5- Blog about THIS giveaway with a link back to this giveaway AND a link back to
LTDchix
! Make sure to leave a comment back here with the link to the post.
***Don't forget to enter my other giveaways listed over to the side of my page and to go enter all the other great giveaways over at the
bloggy giveaway carnival
!***