Patrice over at
not a girl, not yet a woman
gave me the Kreativ Blogger award! She is one of my newest "blogger friends"! She's amazing and you should go check her out!
Ok, so here is my beautiful award...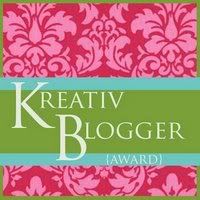 The rules: I have to name 6 things that make me happy.
1- My son and all that comes with him(wet kisses, big hugs, big messes..i love it all)!!
2- My loving husband
3- Spending time with my family
4- Making new friends
5- CHOCOLATE
6- Watching movies
Now its time to pass it on.
Dribbles and Diapers
...seriously go check out that baby gown she made from the train of her wedding gown!!!
Cutie Booty Cakes
...go check out her AMAZING diaper cakes!!
Elle Bee
...her blog cracks me up!